Chelsea Goalkeeper Edouard Mendy has suddenly turned into a transfer agent as he interferes in the ongoing Transfer Saga between Raphinia and Chelsea.
Leeds United are said to have fixed a transfer fee of around 60 million euros on the Winger but recent reports shows Chelsea are negotiating between 50-55 million euros in making him the First Signing of the Boehly Era.
Tuchel likes the Brazilian same way as Boehly likes him although there's a stumbling block.
Arsenal and Barcelona are heads on neck in trying to sign the Brazilian. Chelsea need a better offer to make him sign.
Chelsea proposal is to sign him to be a wingback which does not fancy the Brazilian at all.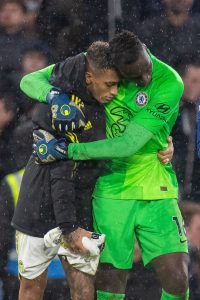 Edouard Mendy likes the player and was spotted during a game with Raphinia maybe encouraging him to join Chelsea. Well we don't know what was said but this transfer saga seems to be a very long one this summer.